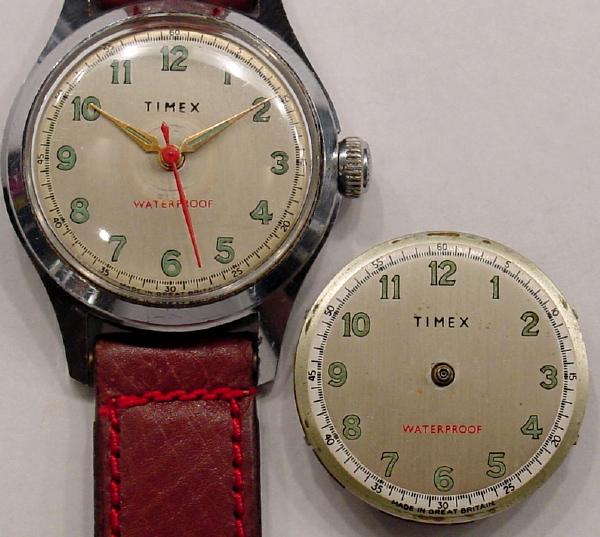 A few years ago, I was looking through an 'American Time' edition on 'The last 100 years of watches.' At that time, I was interested in round 40s and 50s Swiss watches.

The article was broken down by decades. When I reached the 50s, this Timex 'Marlin' was pictured. I was drawn to the watch.  Here was a little military style watch, with a clean dial, green luminous paint, outer seconds chapter and a red sweep. Not Swiss, but a Timex. Up until then I hadn't considered Timex as anything to really look at, but for whatever reason I soon made it my mission to find a Marlin. As it turns out, the Marlin is a general model, like Seamaster or Seaking, with new versions every few years. The Marlins were the waterproof line.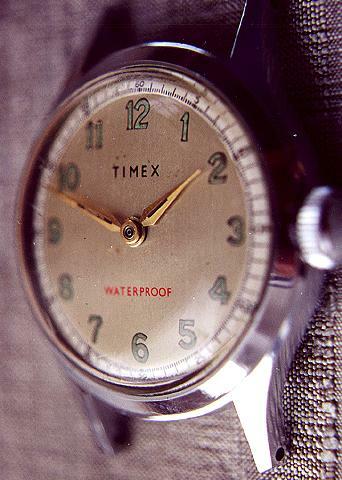 One year or two in which the dial had luminous paint, and the red "Waterproof," which I thought was very nice. The real problem however, in searching for this watch, was that the model name is never anywhere on the watch. It only existed in catalog listings, or advertisements. You coudn't search for Marlin, you'd just get ads. Searching 'Timex' on eBay yielded about 1000 auctions, many in lots with horrible photos. I gave up pretty quickly at first, but returned to searching after I figured out how to filter the searches better.

After much searching, I finally found one on eBay, with a very fuzzy picture, from a seller in Ontario. Not working, and missing the second hand, but for four dollars, I just picked it up. I was pretty sure it was the one. Dial, case and crystal ended up being fine, so I set out to find a red hand, and a working movement to complete it.

Well, months later I was rummaging through some more auctions, and came across a 'lot' of watches. The picture was at the lower limit of detectability, but I thought I saw what looked like the Marlin with red 'Waterproof',  laying in the mess of ugly broken watches.

The UK seller wasn't able to really help, and I don't blame him, as there were many watches. I didn't bid, because it sold for much more than I would have paid for an uncertain thing. I decided to just contact the winner, asking if he'd send me a  better picture of it. He confirmed it with a picture, and was willing to sell it. When I received the watch, I found it to be in overall pretty good shape, but with a circular rut in the dial where the hour hand must have chronically rubbed on it. It also ran very fast. But I was delighted. At this point I had everything I needed!

First of the Marlins, from Canada, missing second hand, poor hands, but a good dial.  Movement was frozen.

( Luminous dots on Timex watch dials continued for many years, but luminous-painted hour numbers seemed to have vanished in the late 50s, never to have been made again. )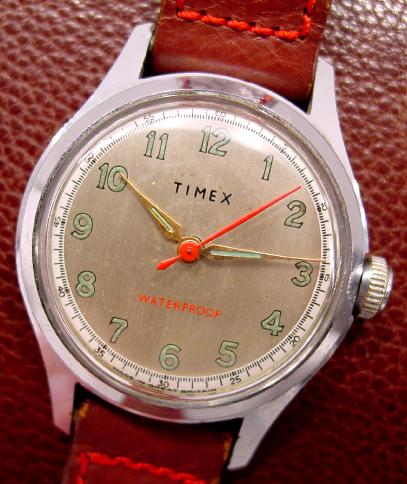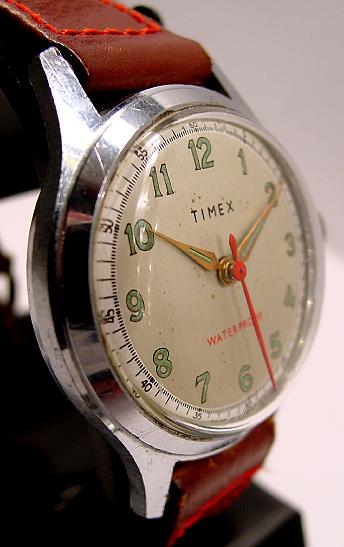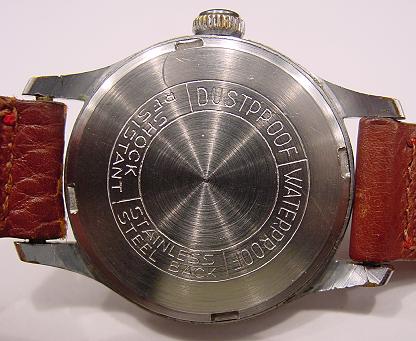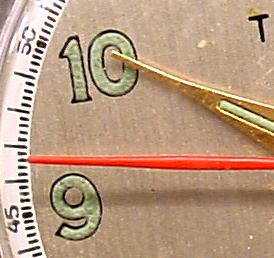 Pre-operative appearances: On the left, second Marlin from UK, with nice hands, and case but rutted dial. On the right, first Marlin from Canada with nice dial. Movements on both needed work. I sent the pair of these to a watchmaker in England to do the work. He took everthing apart, and implanted the good dial into the watch, got the movement cleaned and running. All worked out fine. This is how I became interested in Timex.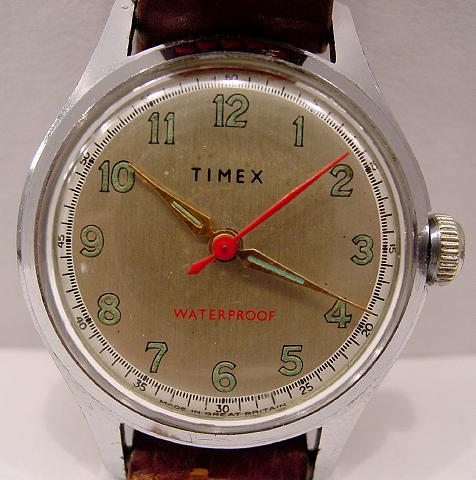 Timex Marlin. Silver color dial with vertical brush strokes, green luminous paint for hours, with fine black border. Outer seconds track in black and white. Red spindle shaped seconds hand, and gold color hour and minute hand with luminous inserts. "Timex Waterproof." Chrome-plated case, diameter, 33 mm.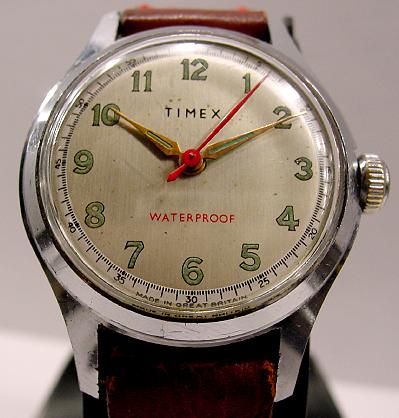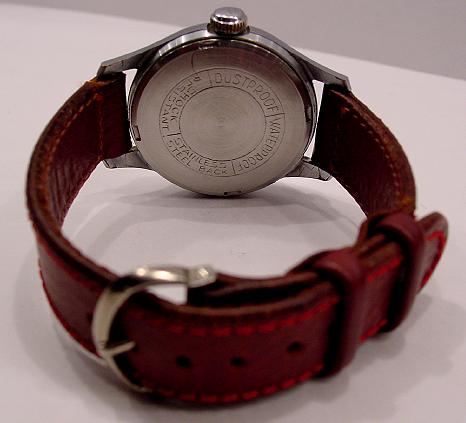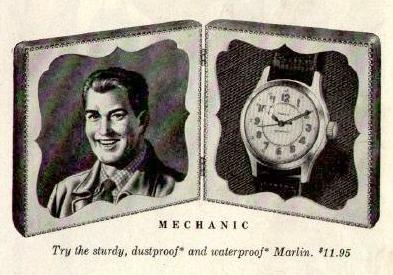 From a Timex Ad. This is a different version of the Marlin. Apparently, meant for a mechanic?

Below is another version of the Marlin model. This one is in more shabby condition including someone's thumbprint, but it has a lot of character. Dial might be good under a bad crystal. I can't even open the back. Does not run. Another honest-looking 50s Timex.