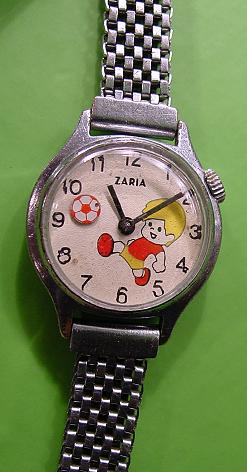 Zaria Russian Watch for children, 1970s? 1960s?

Here is a small Russian boy's watch, featuring a happy child kicking a football. The football jiggles up and down, when the watch is running. Mechanical 17 jewel ladies movement, fitted to this kids' watch. Watch is small, at maybe 20 mm across. I like the crown at 2 position. This is a cute watch, runs very well. See more pictures below. The name on the dial is ZARIA.

Yura, in the Ukraine, has explained:

Hello Alan!

This watch are made on export - the name in English, russian 3APR (russian letter "R" is on the contrary) written by 3 variants Zarya, Zaria, Zarja. It is 3rd watch factory of the USSR, it is created in 1940, on the East from capital (from Moscow).. Him made the watches for womens, small party for children's..

Regards,

Yura

(More information below)

It seems from Yura what indicated, this watch was Russian made, but designed for sale outside the old Soviet Union. To clarify, the watch company was created in 1940, but this watch seems from 1970s, or possibly 1960s. Does anyone know?

The dial pictured here in closeup has some wear, but the character remains vivid and sharp. Note the dark spot on the football. Here it is attached to a post underneath, and this post must somehow articulate with the escapement such that the 'ticking' of the watch is translated into the ball jiggling up and down. It a pleasing little trick.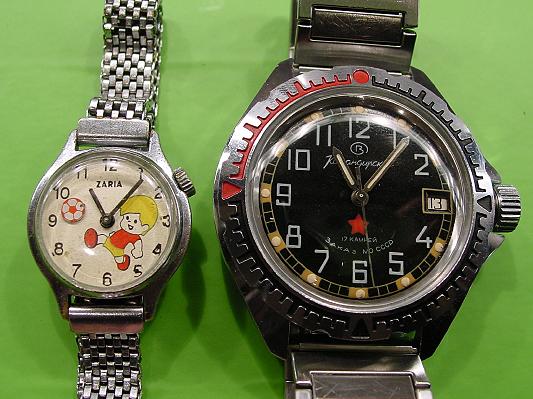 This watch is not very large. Here it is next to a much more massive Russian watch, this one a classic military-style 3AKA3 CCCP Vostok watch.