Tokyo Bay : vintage reproduction

Simulacra is simulacra, but this is pretty good simulacra. I have not bought a watch in many months, and wasn't planning on it, but saw this in a small
Chicago 'accesories' gifty type shop
and asked to try it on. The watch has elements from an earlier era, roughly most closely to the 1950's and earlier. Except for the size. Measuring 38 mm minus the crown, it is substantially larger than most manual-wind, uncomplicates men's watches from that era. The size tipped me in its favor, and after $75 pretax it was mine.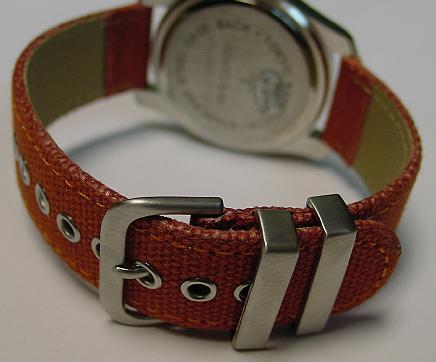 The watch has all the right visual and style elements I like. The dial is fairly simple, easy to read, and seems 'happy and honest' in a way. Hour numbers and marks are in a non-luminous fake luminous green bordered by a thin black line, very clear and crisp. Dial is off-white, simulating the yellowed effect of old dial lacquer. The orange hands are strangely appealing, and all three hands are luminescent. Slightly domed acrylic crystal. Case and lugs is classic round men's watch from probably 1940s-1950s. Fitted with cloth strap with metal grommets, one fixed stay and one sliding stay. Color is hard to describe, rusty orange with some salmon pinkish.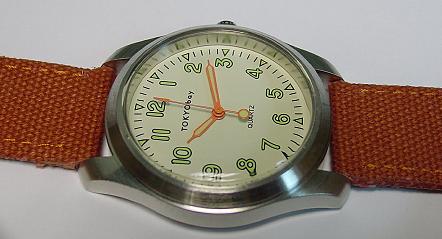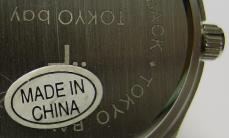 No major complaints, certainly nothing keeping me from buying and wearing it. I think the case is plated instead of steel. It says 'stainless steel caseback' which usually makes me think the case isn't steel. I could do without the 'QUARTZ' on the dial, kind of naff, but maybe it's a requirement, the law? It is not water resistant. For $75 I am very pleased.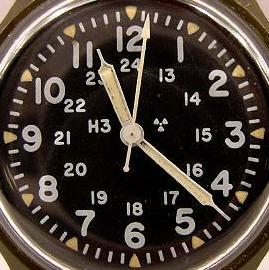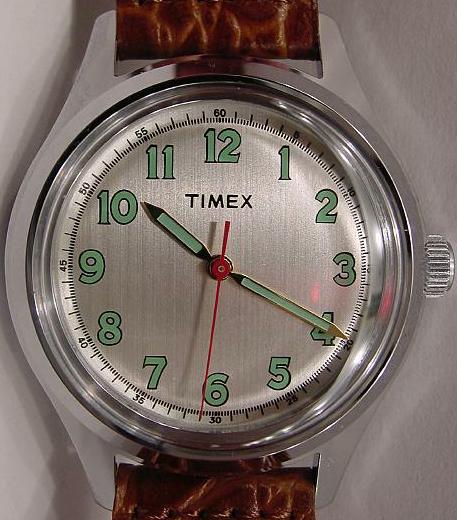 Some features of the dial and hands of this Tokyo Bay remind me a bit of the MIL-W-46374 U.S Army specification, which was actually from 1964, for example the hands, hour arrows and to a lesser degree the fonts for the hours. Pictured here is a beautiful Timex, a quartz repro of a classic 1953 'Marlin' model. Highly detailed and accurate rendition of the original, including the size, which is sadly what puts me off this repro. At 29 mm, I find it small. Shame, really. I still think it's the best reproduction of any watch I've ever seen.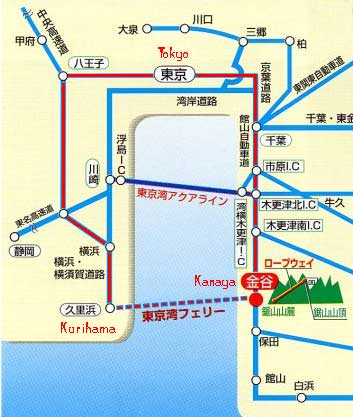 TOKYObay
is a San Francicso company making watches, handbags and other items. There is a real
Tokyo Bay
as well, in Japan. (One more photo of this watch, below)